Archive for November, 2017
November 29th, 2017 by Vigilo
Are You Catholic? Are You Confused at the Church Lately?
Bishop Sanborn gives answers to Catholics and their dilemma following the Second Vatican Council.
Get answers to all the things that seem off, or outright contradictory to Catholic teaching.

November 27th, 2017 by Vigilo
Sanctifying Our Souls Through Prayer
By Very Rev. Fr. Casimir Puskorius, CMRI
It is not what we do physically speaking or what we accomplish in the temporal realm that is important in life, but what we accomplish in our souls — how we sanctify ourselves. This is the most important thing in life, and our first, last, and most important tool will always be that of prayer.
My dear friends in Christ, prayer is heaven. Perhaps this is a simple way of looking at it, but, as we teach the little children in school, heaven is where God is. Although it is not the same as seeing the Beatific Vision, is it not heaven to be with God? How do we come close to God in this life, if not through prayer, and especially Holy Communion?
Perhaps we have envied Adam and Eve walking in the garden of Paradise, talking to God familiarly in the evening hours of the day, and yet that same opportunity is available for all of us, no matter what the hour of day or night. True, we cannot see God as they did but the contact is no less real. At times, of course, it is difficult to pray because it is an exercise of faith. We are talking to Someone whom we don't see. This also tells us that prayer must be from the heart. Lip service will not do when we talk about prayer.
This may be a bit of a digression, but Father Tanquery, in his excellent summary of the spiritual life, lists the four interior means of perfection. I would like to spend some time on this subject since it ties in with the theme of this conference.
First of all, in order to become perfect we must have the desire. Without the desire, we will not accomplish anything. The stronger our desire, the more we will be able to accomplish.
The second interior means of perfection is knowledge of God and of self. This is absolutely necessary. Why must we know God? Because He is the terminus, the end for which we are seeking. Unless we have a clear idea of God, and try to grow in our knowledge of Him, we will not be inclined to advance towards Him in the pursuit of perfection. We must grow in our knowledge of God. To do this, we must meditate upon His perfections, His infinite goodness, in order to be inspired to a greater desire to come close to Him.
Along with knowledge of God comes knowledge of self. As our idea of God becomes more and more elevated, we become more and more aware of our sinfulness and unworthiness. Is not this the wellspring of contrition? As we grow in our knowledge of Almighty God through prayer and spiritual exercises, and understand better His infinite goodness, we begin to ask ourselves how we could have ever fallen into those faults and sins we once committed so lightly. To supplement the knowledge of self we acquire in meditation, it is necessary that we examine our consciences. Meditation is good, but examination of conscience roots out those faults that we see in ourselves.
The third interior means of perfection is conformity to the Divine Will. This is done through obedience, and conformity to the crosses and sufferings that God sends us. How much room for reflection is there upon this! It is so hard to obey at times, so hard to resign ourselves to crosses, and yet those things are the Will of God for us, and we must try to accept them.
Finally the fourth means of perfection is prayer. The amazing thing about prayer is that it includes the other three means of perfection. I quote from Father Tanquery: "Prayer embodies and completes all of these three preceding acts. It is itself a desire for perfection since no one would sincerely pray who did not wish to become better. It presupposes some knowledge of God and of self, since it establishes relations between the two."
What do we do when we pray? We adore, we thank, we offer contrition and reparation for our sins. "Prayer also conforms our will to that of God, since any good prayer contains an act of submission to Almighty God. Prayer, moreover, perfects all these acts by bringing us in all humility before the Majesty of God." So you see, then, the power of prayer. You can see how St. Alphonsus could say that if a person prays, he will save his soul; if he does not, he will lose his soul. We, of course, should not be concerned with only saving our souls, but with sanctifying our souls.
Some other considerations on prayer are quite elementary. We know that when we pray together we unite the force of our prayer with that of others, so that we get the merit of all the prayers combined. Our Lord, of course, said that where there are two or three gathered together in His Name, He is there with them.
But something I would like to emphasize even more is mental prayer — the prayer of the heart. Of course, vocal prayer, too, is from the heart, but in mental prayer it is just the heart, just the mind operating. When we pray vocally, often we are telling God what we want. That is very good. Without this we would not save our souls. But when we make mental prayer, we should also be listening God to find out what He wants us to do. Do you see the difference? As important as it is to ask God for what we want, it is even more necessary for us to listen to Him. How good are we at listening to God as we make our meditation? Perhaps we are having difficulty in the spiritual life precisely because we are not listening enough to God.
The sentiments we have when we make our mental prayer should not be just feelings, although those are nice to have — but sentiments of adoration, love, praise, thanksgiving, contrition and resolution. Be careful not to fall into the delusion that because you have no feeling, your mental prayer is a waste — not at all! As long as you make the act of the will, you have made mental prayer.
At times you may be so dry that you don't know what to think or say. If you then just do your best, God will understand. At other times it may seem we cannot even put into words what we need, or what we would like to say. Let me suggest that you then make your sentiments those of the "Our Father," the perfect prayer. It begins by hallowing the Name of God, by adoring and worshipping. Then we offer to God our wish that His Kingdom come — that His Will be done, in ourselves and in others. Next we ask for our daily bread — both the spiritual food of our soul, and food for our body, our temporal necessities. If we really meditated upon the Our Father, I am sure we would find more than abundant matter to make good mental prayer, especially at those times we find ourselves bereft of the sentiments we would like to have.
Prayer is a penance, and it must be so. It is difficult to cast out distractions. Sometimes we have to fight the whole period through to remove thoughts that should not be there. At other times we are tired, or we don't feel like praying. Let me remind you that penance adds a great value to our prayer. When the three Kings came before Our Divine Lord, they did not bring only frankincense, which signified prayer. They also brought gold, which signifies charity, and myrrh, symbolic of sacrifice. A life of interior prayer is a life of sacrifice. One of the prayers we used to pray in honor of the Holy Kings begged that we might never appear before God empty-handed when we came to pray, but that we would always have some type of sacrifice to bring with us.
When we pray, we must be careful not to be lax with our physical posture. God expects us not to honor Him only with our soul, but with our bodies as well. This takes self-discipline. Surely this is what Our Lord referred to when He said that some devils are cast out only by prayer and fasting. Sometimes we mumble our prayers. If we talked to others as we sometimes speak to God, wouldn't they take insult? Prayer requires attention, an upright posture — these things add to the value of our prayer. Sometimes the prayer itself is the penance — the mortification it takes to pray well.
Allow me to suggest that you keep a little metaphorical box where you can put all your cares, your worries, your plans, your projects, before you go to prayer. Lock it up, throw the key away, so that when you pray, all of those things can stay there. If we allow those thoughts to come with us, is there any purpose of even being in chapel? We take so much away from God; we find Him undeserving of our full attention. St. Aloysius took his prayer so seriously that he made a resolve that if he got a single distraction during his hour of mental prayer, he would start all over. Of course, this is not necessarily something to imitate, but at least we find in him a patron we can pray to for devotedness to our prayer life.
Prayer must be our life. We are told by St. Paul whether we eat or drink we should do all for the glory of God. St. Augustine and St. Thomas tells us how this can be done. The former tells us to converge our life, our actions, our occupations, our meals, even our repose, into a hymn of praise to God's glory. "Let the harmony of your life ever rise as a song so that you may never cease to praise. If you will give praise, sing them, not only with your lips, but sweep the chords upon the psalter of good works." "Thou dost give praise when thou workest, when thou eatest and drinkest, when thou lyest to rest, when Thou sleepest, thou givest praise, even if thou holdest thy peace."
By the grace of baptism, we have all been adopted as children of God, and all of our actions should be referred to Almighty God. Let me give you an analogy. Let us suppose that a human being could adopt something of the plant or animal kingdom and somehow raise it to the human level, pouring out upon this adopted "new" human, shall we say, all the privileges of man — dominion over the plant and animal kingdoms, free will, intellect, etc. Wouldn't you expect this adopted creature always to live up to its new dignity? What would you think if it were to say, "I'm tired of this; I want to go back to being what I was"?
This gives us just a little bit of an idea of the infinite distance that we have traversed through our supernatural adoption. God expects us because of the grace of baptism, to always live a life that conforms to our supernatural state. When we sin, or act from purely natural motives, it is as if we are telling God, "I'm tired of this. I want to go back down to where I was before." By a life of prayer, we live a life of supernatural adoption.
Our prayer time is limited; we can't spend all day on our knees praying, so we must make our work a prayer. It was said of Pere Lamy that, because of very unique circumstances, he had time only to pray his Office and offer Holy Mass. In this case, apparently, it was the Will of God–it was all he could do. Despite this, he continued to grow in holiness. How can this happen? Because he made his work a prayer. He did it for the love of God.
Prayer, what a beautiful thing it is! It encompasses all, it leads to all virtue. We often pray the most when we are feeling the weight of the cross, and indeed, I think that is why God sometimes sends us the cross. We often get so comfortable where we are that, without some difficulty to overcome, we would not pray.
There is another mistake we often make, when we feel we need a particular grace and pray fervently to God for it. We have the whole answer painted out in our minds; we have the solution already planned out. What a mistake! Our solution is not the same as God's solution, so we think that He is not listening. Yet God knows we need something else far more and gives us that instead.
In closing, I exhort you to make a firm resolution, one that you will write down, to ensure your stability, growth and perseverance in this all- important means of sanctification. There is a saying that there are more things wrought by the power of prayer than the world can dream of. Let us take that to heart. Prayer gives us the assurance that no matter what the difficulty, we can always reach out to God. We cannot lose with prayer — it is impossible, absolutely impossible. My prayer is that each one of us will grow more and more convinced of this. Let us pray for one another.
In the Name of the Father, and of the Son, and of the Holy Ghost. Amen.
November 24th, 2017 by Vigilo
The Virtue of Patience
A Sermon by Fr. Dominic Radecki, CMRI
You may have heard this short prayer: "Lord, give me patience, but please hurry!" What is patience? It is a virtue which helps us, for the love of God, to calmly bear our tribulations and preserve serenity amid the sufferings of life. Patience tempers sorrow and staves off excessive anger and complaining. Patience is the guardian of all the virtues, for there are obstacles to be encountered in any good work, and they can be overcome only by patience.
Spiritual writers are not the only ones who attest to the importance of patience. An Englishman once asked William Pitt what quality was most essential for a Prime Minister. One person had said, "eloquence," another "knowledge," and yet another "hard work." "No," said Pitt, "it is patience or self-control" (In Pursuit of Perfection,Charles Hugo Doyle, p. 133).
Patience and self-control are never more sorely tested than in our daily sufferings. Suffering is common to all, but it is meritorious only if accepted with the proper dispositions. Fr. Balthazar Alvarez enumerates the five causes of suffering which try our patience:
1) Assault of the weather: extreme cold, excessive heat, violent storms, drought, high humidity, floods, earthquakes, etc. Such trials very often strengthen faith by recalling to mind the sovereign dominion of God.

2) The necessities of our weak human nature, such as fatigue, sickness, hunger, thirst, etc. God allows these so that we may do penance for our sins and increase our virtues. The ultimate of these sufferings is the sorrow caused by the death of a loved one — a grief which may last a lifetime.

3) Pain, irritation and frustration due to personality conflicts with others. God makes use of the weakness of others to test and strengthen our virtues.

4) Insults, contempt, opposition, false accusations and misunderstanding, which often cause mental anguish.

5) Spiritual sufferings that one encounters in the service of God, such as spiritual dryness, scruples, distractions, temptations and persecutions from the devil.
In all these cases, a wise person bravely accepts and carries his cross because it leads to eternal salvation. Not only that, it can even beget supernatural happiness in this life: "Esteem it all joy, my brethren, when you fall into various trials, knowing that the trying of your faith begets patience."2 The saints knew how to suffer with patience. They bravely and joyfully carried their crosses because they realized that the cross is God's greatest gift. The saints knew that patience in tribulation is the main road to salvation.
God did not choose an angel to mediate between sinners and Himself. Rather, the Father sent the Son to suffer and die to redeem mankind. Unlike an angel, who could have compassion but not empathy for our condition, Jesus Christ assumed our human nature to share our wounds and sorrows. Never again could it be said that God does not know what suffering is like from personal experience. St. Jane Frances de Chantal explains how this empathic example of Our Lord can inspire us. Speaking of those who have offended us, she writes: "With whom did Jesus converse? With a traitor who sold Him at a cheap rate, with a thief who reviled Him in His last moments, with sinners and proud pharisees. And shall we, at every shadow of an affront or contradiction, show how little charity and patience we have?"
At times we take the easy way out and give up. It is in times like these that we need a "wake-up call." When a sheep strays from the fold, the shepherd sends his dog after it, not to devour it, but to bring it back again. So our Heavenly Father, if any of His sheep stray away, setting out on the wrong path, sets His dogs of affliction to bring us home to a consideration of our duty towards Him. His dogs are poverty, sickness, death, war, and loss of material goods or friends.
Patience is exercised when we resign our will to the will of God and accept our crosses as coming from the hand of God for our welfare. Our individual burdens, whatever they may be, are God's gift and have divine blessings for us, if we bear them in faith and love. When we call upon God for help, He will likely not take the load from our shoulders, but rather strengthen us to carry the burden. Patience does not necessarily exclude wishing for relief from suffering, but it does exclude murmuring about it. We need to pray and to exercise patience and courage in order to bear it.
It is easy to think that our troubles are greater than those of others. Yet a walk through the nearest hospital will soon dispel that illusion. Unless we are very self-centered and spiritually blind, we will leave the hospital counting our blessings and thanking God. Indeed, none of us has a monopoly on trouble. There is plenty to go around. There always has been.
The worldly view of suffering is misleading and dangerous; it is both irrational and irreligious. The world gives to suffering the consideration that really ought to be given to sin, regarding it as the supreme evil to be combatted at any cost, as the great enemy of mankind, and as something in which there is no particle of good or any mitigating circumstances. This view leads to strenuous efforts to abolish suffering, thereby making people less capable of enduring it and often causing their efforts to be wasted and misdirected.
The world values and seeks comfort, pleasure and status. What place have pain and poverty in such a scheme of life as this? What need is there, for the world's purposes, of virtues such as patience, resignation, meekness, contentment, faith? It does not want to know about suffering or to make provision for it.
True patience is a difficult virtue to practice because of our selfishness and fear of the cross. It is difficult to preserve peace of soul in times of sickness, misfortune and stress. The pressure of many and onerous duties in our state of life often causes us to be impatient along with the fatigue of the battle.
The continued practice of patience will bring about a greater love for Christ and for our neighbor. We become more tolerant of others' faults, more forgiving, and more ready to help others. This behavior will be supernaturally meritorious, of course, only in so far as we are united to Christ and draw our strength from Him. We must do our good actions for His honor and glory, otherwise, all this is purely natural and will quickly fade rather than grow stronger.
As with any virtue, patience and Christlikeness is attained by degrees. First, we must have a genuine and serious desire to acquire patience and this desire must be activated through daily prayer. Second, we must resolve to prevent small crosses and contradictions from destroying our peace of soul. St. Teresa said, "If we bear slight things patiently, we shall acquire courage and strength to bear great things." Thirdly, meditation on the Passion of Christ will increase our love of God and arouse in us an earnest desire of imitation: "Christ has suffered for you, leaving you an example, that you should follow in His steps." St. Paul tells us to consider Christ "Who endured such opposition from sinners against Himself, so that you may not grow weary and lose heart."
The joy of serving God wells up in our hearts, enabling us, no matter how weak and timid we may seem to be, to carry the cross cheerfully and even triumphantly. A prime example took place in Paris during the horrors of the French Revolution:
"Condemned to the guillotine, a community of nuns was forced to pass through the abominable, storm-swept streets, where terror reigned supreme, to arrive at the place of their doom.

"The Sisters raised their serene voices, chanting the sublime hymn, 'Veni Creator Spiritus.' Never before, the listeners thought, had that anthem of majestic praise been so divinely sung — so much as if the chant of heaven itself had floated down and mingled with the melody. The celestial song did not cease when they ascended the stairs of the scaffold and the work of butchery went on. Voice after voice had to drop from the chorus as each nun bent under the blade, and at length one voice was heard alone sustaining the holy strain, with no faltering or cadence, even while the bloody blade fell and sealed the last martyr's testimony. Over scaffolds and through blood, beset by slow sufferings and sharp tortures, continues the march of the followers of Our Lord, but, all the while, we will be sustained by the rations of His joy, and look gladly forward to His promised gift when the night cometh and we lay down our arms in the kingdom of heaven."
In the Name of the Father, and of the Son, and of the Holy Ghost. Amen.
November 22nd, 2017 by Vigilo
Original Post on Novus Ordo Watch
Feeling the heat?
Vatican promotes Book defending Francis against Claims he is not a true Pope
It looks like the pseudo-Catholic establishment in the Vatican is feeling the heat against "Pope" Francis.
After more and more people are beginning to voice doubt about the legitimacy of Jorge Bergoglio's claim to being the Pope of the Catholic Church, the Vatican will host the presentation of a book against what they call "Sedevacantism", on Tuesday evening, Nov. 21.
The book in question is called Sedevacantisti ("Sedevacantists") and was written by Francesco Antonio Grana. It was released on Oct. 11, 2017 and is being published by Tau Editrice. It is available online for purchase and has already received some reviews.
Judging by what has been said about the book, it appears that it is not really about Sedevacantism as it is generally known. Rather, the work seeks to refute arguments made only against the legitimacy of Francis specifically, including arguments advanced by Antonio Socci in his 2014 book Non È Francesco("He's Not Francis") and those who base their rejection of Bergoglio on conclave rules laid down by "Pope" John Paul II in 1996. It is unclear whether the validity of the resignation of Benedict XVI in 2013 — denied by the so-called "Resignationists" — is also defended.
But regardless: The fact that the words "Sedevacantism" and "Sedevacantists" are now being bandied about is a good thing, as it will lead to more people researching the topic. We remember a few months ago when "Archbishop" Georg Ganswein, who is both the prefect of Francis' "papal" household and the private secretary of "Pope Emeritus" Benedict XVI, was asked to comment on a Novus Ordo Watch blog post.
Here are some photos of the author, Francesco Grana, handing a copy of his book to the man he defends as the "Vicar of Christ":
Image source: Tau Editrice
Regardless of the actual content, it is a great satisfaction to know that someone put a book with the word "Sedevacantists" on it straight in Francis' face.
The fact that a book that seeks to defend Francis' claim to the Papacy as legitimate is being presented in a Vatican press conference, speaks volumes. Apparently the powers that be have decided that the need for defending Francis is greater than the embarrassment that inevitably accompanies such an occasion.
On Nov. 18, the Italian Vaticanist Marco Tosatti noted that the press conference announced by the Vatican for this book is unusually "guarded":
Let us start with an odd announcement, regarding a press conference — about a book presentation — very heavily guarded. We reproduce the announcement here:

On November 21, in the Vatican, presentation of the book "Sedevacantisti" with Gomez and Saluzzi.

On Tuesday, November 21, in the Vatican, at 6 pm in the offices of Vatican Radio (Sala Marconi – Piazza Pia, 3 – Palazzo Pio, Vatican City), Peter Gomez, director of the website ilfattoquotidiano.it and Fq MillenniuM, Paola Saluzzi, journalist of Tv2000, and Javier Martínez-Brocal, director of Rome Reports, will present the book "Sedevacantisti" (Tau publishing house), by Francesco Antonio Grana, the Vaticanist from ilfattoquotidiano.it.

Francis has not been legitimately elected. He is a heretic. He even wants to canonize Martin Luther. During five years of pontificate, many critics, outside but especially also inside the Catholic Church, have been attacking Bergoglio, accusing him of heresy, like the four cardinals who have expressed their doubts about Bergoglio's opening towards the divorced and remarried, or like those who printed 200 posters and put them up along the streets of Rome, making fun of the little amount of mercy the Latin-American Pope shows towards his opponents. "Sedevacantisti" aims to reply point by point to the groundless and unjustified attacks against Bergoglio, illustrating his big success in the ecclesiastical field and in the worldwide geopolitical scene.

Apart from the fact that the four cardinals did not attack the Pope accusing him of heresy, but asked him — along with many others — to clarify some ambiguous and controversial points of an apostolic exhortation; apart from the fact that the "great success" can be the object of a long debate, very lively and with an uncertain outcome; what is most striking is the outstanding preventive security measures. Marconi Hall often hosts press conferences and presentations of various kinds. The only access requirement is usually the mere ability to enter. Instead, take a look at this:

Ways of accreditation

Journalists and workers of the media who intend to take photos and videos must send a request to the Press Office of the Holy See, by email to accreditamenti@salastampa.va, indicating their press affiliation, their role, and attaching a copy of an identification document. Those who already have an ORDINARY accreditation, which is valid for the Press Office of the Holy See, must submit a participation request. All requests must be received 24 hours before the event.

What are they afraid of? That a sedevacantist commando shouting "the pope is not the pope" will overthrow the speakers' desks and beat up our friend Paola Saluzzi? We are afraid that, after the joke of the mobile billboard with the picture of [Cardinal] Caffarra, the sense of the ridiculous under the shadow of the Dome is fading away.

(Marco Tosatti, "Bestiario: Chi Ha Paura Del Sedevacantista Cattivo?", Stilum Curiae, Nov. 18, 2017; our translation; special formatting in original.)
In a few hours, we will know what transpired, although we predict it will be pretty much a non-event. It will be an event no one attends about a book nobody reads because at this point the evidence about Francis is so manifest that those who like him, want him to be a true Pope, regardless of the evidence — and those who dislike him certainly won't be convinced otherwise by reading a book about it that presumably "explains" that it's all just a big misunderstanding.
Grana's book could turn out to be very similar to Tom Hoopes' What Pope Francis Really Said. It's too little, too late — and, at this point, who can take it seriously?
November 20th, 2017 by Vigilo
Original Post on Novus Ordo Watch
Successor to Bp. Donald Sanborn
A New Sedevacantist Bishop: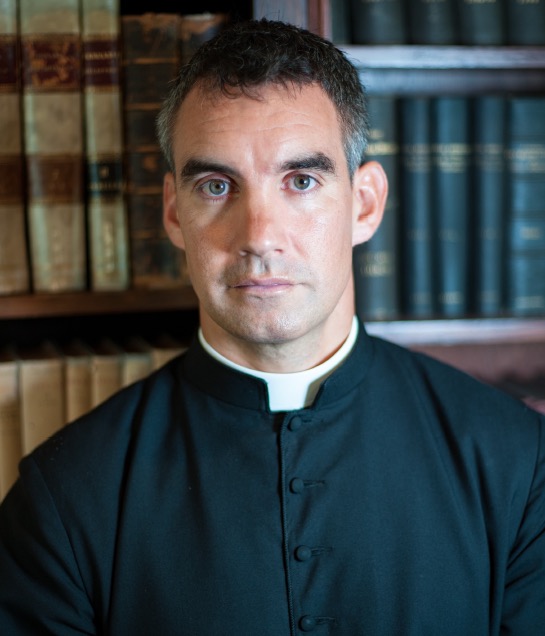 Fr. Joseph Selway to be consecrated Bishop in Spring 2018
The November 2017 newsletter of Most Holy Trinity Seminary in Brooksville, Florida, contains an announcement for an episcopal consecration. The Most Rev. Donald J. Sanborn will consecrate Fr. Joseph Selway a bishop in the spring of next year. The precise date is still to be determined.
The following is the announcement published by Bp. Sanborn:
Father Selway will be consecrated a bishop in the spring. Obviously sooner or later I had to choose someone to succeed me in what I do and say. I will be sixty-eight in February. I have been mulling over doing this consecration for quite a while, and now God's providence, I believe, has indicated the right time.

Fr. Selway is the obvious candidate to be a bishop. He has been under my tutelage continually since he was six years old. He is thoroughly familiar with all of our principles and ways of acting. He already has the respect of all the priests who are associated with us in the Roman Catholic Institute. He is of sterling reputation. I know of no one who would raise the slightest objection to this choice. Many priests already look to him for leadership.

Ordained in 2001, he will celebrate his 16th anniversary on December 8th of this year. He will turn forty in January. He therefore has both the age and experience to be a bishop.

He is a man of firm faith and strong piety, and is capable of tremendous workloads. He will be a great asset to the traditional movement.

I have not yet set a date for the consecration, since to be a bishop requires a great deal of preparation from the point of view of robes and other paraphernalia. He also must learn the various rites of sacraments which only bishops can perform.

Please pray for Fr. Selway. Being a bishop in these times is not easy. There is a heavy demand upon you.

Fr. Selway's consecration will not mean that I am retiring from my duties. Before Vatican II, priests and bishops never really retired; they just slowed down.

I have no intention of slowing down, but having another bishop available to go to the many places which require my services will make my burden lighter.

(Source: Most Holy Trinity Seminary Newsletter, November 2017)
Fr. Selway was ordained a priest by Bp. Robert McKenna, O.P., and currently serves as vice-rector of Most Holy Trinity Seminary (source).
Bp. Sanborn was consecrated a bishop in 2002 by Bp. McKenna, who in turn had been consecrated in 1986 by Bp. Michel-Louis Guerard des Lauriers, O.P. As a priest, Guerard des Lauriers was theological advisor to Pope Pius XII, taught at the Pontifical Lateran University in Rome, and co-authored the 1969 Ottaviani Intervention. He was made a bishop in 1981 by the Vietnamese Bp. Peter Martin Ngo-dinh-Thuc, who had been appointed by Pope Pius XI in 1938.
November 17th, 2017 by Vigilo
Original Post on In Veritate by Bishop Sanborn
Ecclesiastical Materialism
Introduction.
From the title, one might expect that I would be writing about avarice among the clergy. I am not addressing that at all, however.
Recently I received from an old friend, who is a Novus Ordo conservative, a note in which he invited me to come back "to Rome — and the true Church — outside of which there is no salvation."
His invitation, although made with all good intentions, nevertheless prompted me to write this response. What he means is that I should give up my repudiation of Vatican II and its subsequent reforms, submit to the local bishop, and be somehow "regularized" within the structures of the Novus Ordo.
First response.
My first response is the following. The Roman Catholic Church teaches that there is one true Church of Christ, and only one, which is the Roman Catholic Church. The Novus Ordo teaches that the Church of Christ merely "subsists in" the Catholic Church. (Lumen Gentium) The Roman Catholic Church teaches that outside of the Roman Catholic Church there is no salvation. The Novus Ordo teaches that outside the Roman Catholic Church there is salvation, namely that non-Catholic religions are means of salvation. (Decree on Ecumenism, Catechesi Tradendæ of John Paul II) The Roman Catholic Church condemns religious liberty. The Novus Ordo teaches religious liberty. (Decree on Religious Liberty) The Roman Catholic Church condemns the idea that the college of bishops has supreme jurisdiction over the whole Church. The Novus Ordo teaches this condemned doctrine, known as collegiality. (Lumen Gentium) The Roman Catholic Church condemns adultery and fornication in all cases. The Novus Ordo teaches that these are morally acceptable in certain cases. (Amoris Lætitia) The Roman Catholic Church condemns as a mortal sin of sacrilege the giving the Holy Eucharist to non- Catholics. The Novus Ordo approves of it. (1983 Code of Canon Law) The Roman Catholic Church condemns the use of birth control devices as mortally sinful and intrinsically evil. The Novus Ordo permits birth control devices for prostitutes. (Ratzinger, "Benedict XVI," in a published interview)
What I have responded above is only a smattering of the myriad dogmatic, moral, liturgical, and disciplinary contradictions between the Roman Catholic Church and what we call the Novus Ordo. We could provide the endless list of heresies and blasphemies of Bergoglio. But these things are well known.
The four marks of the Church.
I will add to this first response the four marks of the Church.  (1) The Roman Catholic Church is one in faith, that is, in order to be Catholic all must profess the same dogmatic and moral teachings which are taught by the Roman Catholic Church. The Novus Ordo has no unity of faith, and as we have seen, has no continuity with the Catholic past in any of the essential aspects of the Church's unity. (2) The Roman Catholic Church is catholic, that is, universal, since it preaches a single doctrine to the whole world. Since the Novus Ordo lacks unity in doctrine, and lacks continuity with the Church's past in matters of doctrine, it cannot have the mark of catholicity. For catholicity presupposes unity. (3) The Roman Catholic Church is holy. The Novus Ordo is unholy, because it condones evil disciplines, preaches condemned doctrines and heresies, leads people into error and sin, and promotes the evil New Mass, promotes abominable ecumenical acts with non-Catholic religions, and condones sacrilegious liturgical practices. (4) The Roman Catholic Church is apostolic. The Novus Ordo has abandoned apostolic doctrine and discipline, and teaches and does what is contrary to this sacred apostolic deposit.
Come back to what?
My friend's invitation makes it sound as if the Catholic religion is intact in the institutions he wants me to embrace. It is as if it is the year 1950, and that I have wandered off into schism because of my pride. If this were true, I would return immediately. But there is an elephant in the room. The elephant is this: The Novus Ordo is innovation, is heresy, is alien to the religion revealed by God and taught by the Roman Catholic Church. It is as much a break with the past as the heresy of Martin Luther was. What is different, however, between Martin Luther and the Novus Ordo? There is this significant difference: Martin Luther was excommunicated and subsequently founded his own church. The Novus Ordites have never been excommunicated, and have never founded their own church. This difference is the key to understanding the present problems in the Catholic Church.
Ecclesiastical materialism.
Now I will explain ecclesiastical materialism. The Roman Catholic Church has a visible aspect and an invisible aspect. What is visible is the external profession of faith, the administration of the sacraments, and the visible government. What is invisible is the grace and assistance of the Holy Ghost which infuses the virtues of faith, hope, and charity, the authority to govern, and the indelible character on the soul in Baptism, Confirmation, and Holy Orders. The Holy Ghost, furthermore, assists the Church by an invisible influence in its promulgation of doctrine, morals, liturgy, and discipline, in such a way that these things are free from error. It is this invisible assistance which guarantees the infallibility and indefectibility of the Church.
All of these qualities are invisible, but are nonetheless what make the Catholic Church the one, true Church of Jesus Christ, outside of which there is no salvation. These invisible qualities have made the Catholic Church for two thousand years the unchanging, permanent, always consistent and coherent institution of divine truth in a sinful, ignorant, and ever-fluctuating  world.
Even the administration of the sacraments has an external and internal aspect. The external aspect is the visible rite itself. The internal aspect is the validity of the sacrament, whereby it confers the grace it signifies. It is therefore possible that the external rite be observed and administered, even though, through some internal and invisible defect, the sacrament is not valid.
In our discussion here, we are saying that what is left of the authority of the Church in the Novus Ordo is merely the material or visible aspect of authority, that is, persons designated to receive authority. What is lacking to them is the divine authority, and the  divine assistance which necessarily accompanies it.
Body and soul.
Just as the soul is the life of the body, so it is authority which gives life, so to speak, to the person who is designated to be pope or bishop. It is to say that a mere election or appointment is not sufficient. The authority must come to him from Christ, the Invisible Head of the Church, in order that he be a true pope or a true bishop. This authority is transferred only on condition that the designated person have the intention of promoting the objective and proper ends of the institution over which he is placed. It  is for this reason that the president-elect of the United States does not obtain power in November when he is merely elected, but in January when he is inaugurated, and only on condition of swearing to uphold the Constitution of the United States. He must swear that he intends to lead the country to its objective and proper ends. Were he to fail to so swear, he  would fail to obtain the power, and would remain a president-elect, a president only materially, until such time as the Congress removed the election from him.
What has happened to the Church since 1958.
What we are facing in the Novus Ordo is this: Modernists, by remaining secretive for decades, managed to obtain by the normal and legal process of appointment and designation, a position in the Church to which authority is normally connected. So John XXIII was elected pope in 1958. By a defect, however, the authority,  which is invisible and which is given by Christ the Head of the Church, was never transferred to John XXIII and his successors. What  was this defect? It is that they intended to pervert the Church, and to lead it in a direction contrary to its nature and purpose given to it by God. In a word, they wanted to transform the structures and institutions of the Roman Catholic Church into a huge vehicle of their  Modernism. This evil intention is what has blocked the flow of authority from Christ into them. Without this authority they remain non-popes, false popes. The bishops who have embraced this perversion of Catholicism are also false bishops for the same reason.
That the authority of Christ and the assistance of the Holy Ghost are lacking can be seen from the Hiroshima effect of Vatican II. The Novus Ordo religion — essentially Modernism — has wrecked all of the institutions of the Catholic Church. What is left is only a lifeless shell of these institutions. There are the same physical buildings. There are the same institutions of government. There is still a functioning Vatican. There is still a diocesan bishop. There is still a chancery. There are pastors appointed. There are functioning parishes. There are rectors of seminaries, the few that are left.
What we are seeing here, however, is merely a carcass of the Church's authority. It is something like a dead whale which has washed up on the shore. These institutions, both the buildings and the government, constitute, from a purely material and visible point a view, a continuity with the past. Internally and invisibly, however, they are full of doctrinal, moral, liturgical, and disciplinary corruption. The stench of death rises from them, that is, the stench of heresy and all of its effects. Everything is infected with gangrene: the Mass, the rites of the sacraments, the catechism, doctrine, morals, attitudes. We see the effects of this infection, as well, in the emptying of the seminaries, convents and religious houses of all kinds, in the breathtaking decline of religious belief and practice, especially among the young, in the nauseating and disgusting conduct of the clergy, even to the point of sodomitic orgies in the Vatican, enhanced with both drugs and liquor, which recently took place, and was reported in the major newspapers, e.g., the London Times.
The Novus Ordo popes, consequently, are mere "cadavers" of real popes, inasmuch as they sit in the chair of Peter, wear the uniform of a pope, but have no power from Christ to teach, rule and sanctify in His name.
My second response.
My second response, therefore, is that the Novus Ordo conservatives are ecclesiastical materialists. They can see only the continuity of lifeless institutions from pre- to post- Vatican II, and from that they conclude that salvation consists in adhering to these lifeless institutions. They see only the material side of the Church, its visible side, and turn a blind eye to the absence of the invisibles of the Church, especially the assistance of the Holy Ghost in keeping the Church free from error and defection.
The Novus Ordo religion is one big error and defection. The fact that error and defection can be found in it is an infallible sign that the invisible assistance of the Holy Ghost is not with the Modernist "popes" and "bishops." They have no authority to rule, no matter if they are maintaining the buildings and governmental institutions of the Church.
An analogy.
To illustrate my point, I will make an analogy to a hijacked airplane. Imagine a scene in which terrorists, who have come through the ranks of the airline as uniformed, licensed, and authorized pilots, one day show their true colors by announcing that the airplane will be flown into the side of a building. They slit the throats of anyone who tries to stop them.
From the outside, the plane is flying as normal. Inside there is chaos, terror, and horror.
The Novus Ordo conservative could be compared to the passenger who would say: "For as long as we are still flying, and the pilots are authorized and uniformed pilots, and the airline logo is still on the plane, there is nothing to fear."
The sedevacantists are those who have done something to stop the evil pilots, and who have had the common sense to declare that if the pilots intend the ruination of the aircraft and its passengers, they do not have the authority to pilot the plane. These sedevacantists are considered "extreme" and "misled" by the passengers who are consoled — indeed blinded — by the purely external signs of the normal functioning of the plane. These are the Novus Ordo conservatives.
A carcass of authority.
The Novus Ordo conservative looks merely at the carcass of  authority and government, which is really the only thing left intact since Vatican II, and from it concludes to the identity of the pre- and post-Vatican II religion. He fails to understand that if the invisible qualities of the Church do not vivify the visible institutions of the Church, then these institutions are dead in the practical order.
The Catholic Church, as the Church founded by Christ and assisted by the Spirit of Truth, always retains these institutions of the papacy and episcopacy and her faithful are always attached to them. Therefore in this present hijacking of these institutions, the Church does not lose her power to teach, to rule, and to sanctify, for these pertain to her divine constitution. Just as the solution to the hijacked airline is to wrest the control of the aircraft from those who would pervert its function and destination, so the solution for the Church is to wrest control of these sacred institutions from the Modernists so that once again the government of the Church may function normally.
In order to wrest control, however, it is first necessary to identify the hijacker  and to proclaim what is common sense: that he who intends the destruction of the  aircraft and its passengers does not have the authority to pilot the aircraft. Likewise the Modernist, though sitting in a papal or episcopal throne, does not have the authority to pilot the Church.
The worst thing anyone could do in such a case is to reassure Catholics that because we find these Modernists sitting in the papal throne or episcopal throne, then for that reason they must have the authority to rule the Church. It is as absurd as to say that because the hijacking pilots are seated in the cockpit, they have the authority to pilot the plane and we must obey them.
The Novus Ordo conservative, in remaining loyal to the Modernist "authorities," stymies and paralyzes a proper and efficacious reaction to the problem in the Church. He invites everyone to rally to the Modernists, and to spurn and condemn the sedevacantists as schismatics. If the four Novus Ordo cardinals who presented the Dubiato Francis had the courage to declare him a non-pope, for reason of heresy, the Catholic Church would be on the road to recovery. Instead, they were careful to tell Francis that they were not sedevacantists. Cardinal Burke, one of the Dubia cardinals, stated in an interview in December that if Francis were a public heretic, he would no longer be the pope.
Leave Rome? Who has left Rome?
It is not to leave Rome, the one true Church, to be faithful to Catholic doctrine, liturgy and discipline. It is not to leave Rome to denounce as Modernism, the worst heresy to assail the Church according to Saint Pius X, the aberrations of Vatican II in doctrine, liturgy, and discipline. It is not to leave Rome to declare that those who deviate from the true faith cannot rule the Catholic Church.
It is to leave Rome, however, to embrace the new religion of Vatican II, and to associate with the authority of Christ those who have devastated, in a matter of  fifty-nine years, counting from 1958, the magnificent Catholic Church, built up for centuries by true popes and bishops with the assistance of the Spirit of Truth. For Rome is  the Church, and the Church is the Faith.
All of these discussions always revert to a single question: Do the reforms of Vatican II constitute a new religion, different from the Catholic religion? If they do, then the position of the sedevacantists is correct. For it is impossible that the Church, assisted by the Holy Ghost, could promulgate to the whole world a false religion. If, on the other hand, they do not constitute a new religion, if indeed there is continuity of true doctrine, liturgy and discipline, then the sedevacantist is wrong and the Novus Ordo conservative is right. So it is pointless to talk about anything else unless this single burning question is answered.