Archive for October, 2019
October 16th, 2019 by Vigilo
The long-awaited and much-touted Pan-Amazon Synod in the Vatican is in full swing, and the first week has seen fireworks. Whether it be an idolatrous ceremony held in the Vatican Gardens, prelates bewailing "ecological sins", churches being profaned with paganism and indecency, Francis preparing his sheeple for a deluge of "newness", a nun at the Vatican press conference saying she "hears confessions" in the Amazon region, or the general relator attacking priestly celibacy in his opening address — you name it, the first synod week had it on sale!
In fact, one can probably say that things have been worse than most people expected, and expectations were not high. Even an indigenous protest at St. Peter's Basilica right after the opening "Mass" was part of the synodal experience, at least until Vatican police took care of the problem. That there are heretical "German fingerprints on this synod" need hardly be mentioned. But either way, before you read on, make sure you fasten your seatbelts: It's going to be a wild ride!
Spiritual Crime Scene in the Vatican Gardens
The inofficial kickoff for the synod was the gathering in the Vatican Gardens on Oct. 4, an event which was marketed as a dedication of the synod to St. Francis of Assisi. Jorge Bergoglio ("Pope" Francis) himself presided over the celebration and stood by watching when his quasi-prophets from the Amazon began dancing around idols they had placed on the ground and prostrated themselves before them, as we reported in a separate post.
The casual mention of "Mother Earth" — otherwise known as "Gaia" or "Pachamama" — at a subsequent Vatican press conference fit right in with that, and when the professional Bergoglio admirer Austen Ivereigh tried to get "Bishop" David Martínez de Aguirre Guinea to tell the world that the image of a naked fertility goddess apparently worshipped in the Vatican Gardens was really an Amazonian version of the Blessed Virgin Mary, the latter declined to do so. Instead, he answered that there was no need to give it any particular interpretation and that it "probably represented 'Mother Earth, fertility, woman, life.'" Oops!
To counteract that, Francis' loyal subjects at Where Peter Is were busy scraping the bottom of the barrel to make the scandalous Oct. 4 event in the Vatican Gardens into a Catholic celebration of the Mother of God, on the grounds that the woman who subsequently handed the carved image over to Francis reportedly said, "[This is] Our Lady of the Amazon." They furthermore found one "missionary priest for indigenous peoples in Peru" who identifies it as "an image of a [sic] Blessed Mother, who is pregnant. She is the Virgin, and we have called her Our Lady of the Amazon." But then he elaborates most interestingly: "She represents the Amazon, because what is the Amazon? The Amazon is a woman, she is female, she has a female face. Why? Because the earth is a mother, the earth gives life. So that is the Amazon." In other words: Mother Mary = Mother Earth = Gaia? Is that where they're going with this?
It should be pretty clear that merely calling an idol "the pregnant Virgin" or even "Our Lady" does not make it into the Blessed Mother — just as worshipping the moon under the title "queen of heaven" (cf. Jer 7:18) doesn't make one a Marian devotee — especially when the thing looks more like the Whore of Babylon (cf. Apoc 17:1-5) than the Mother Most Pure. While it is standard Novus Ordo apologist practice to find all kinds of excuses for the "papal" status quo, it is actually not the job of the common lay folk to look for ways to make what to all appearances is abominable idolatrous creature worship into a perfectly Catholic ceremony. Rather, it would be incumbent upon the Vatican to ensure that no scandalous activities take place there, and that anything exotic or unusual that is nevertheless perfectly fine is properly explained beforehand to ensure that no wrong appearances are given and that no one is presented with an unnecessary occasion of sin.
Thus, even if we assume for the sake of argument that what transpired in the Vatican Gardens on Oct. 4 was an entirely Catholic ritual — and it wasn't! –, nevertheless it clearly had the appearance of being pagan earth worship, on account of which countless people have been scandalized. Scandal is defined in Catholic moral theology as "any conduct that has at least the appearance of evil and that offers to a neighbor an occasion of spiritual ruin" (Rev. John A. McHugh and Rev. Charles J. Callan, Moral Theology, n. 1447; underlining added). So, let's keep in mind that the burden of proof, or the blame, is not to be shifted onto those "hermeneuts of suspicion" — really, why would anyone have cause to be suspicious about what goes on in the Vatican in 2019 AD?! — but rather is to be found with those Vatican authorities who authorized this wickedness, above all, the Jesuit apostate Bergoglio.
Profanation of Churches
Alas, the abomination was not confined to the Vatican Gardens. That awful naked pregnant Amazonian statue made its way also into the synod audience hall and St. Peter's Basilica itself — in a canoe, of course! As far as who or what the carved image actually represents, one will probably get as many answers as the number of people one asks. What is definitely going on there is syncretism — the mixing of Catholic elements with pagan earth worship. Even the Novus Ordo grandson of a former shaman was scandalized.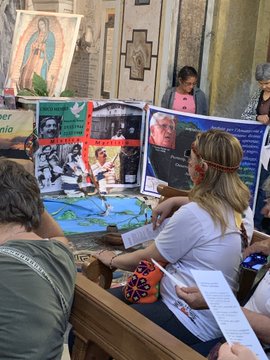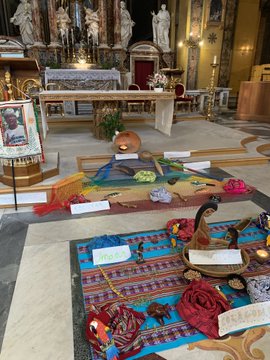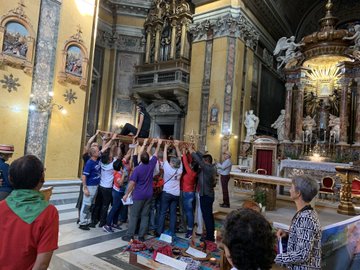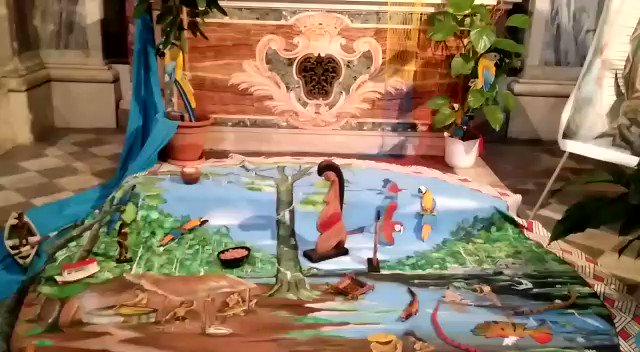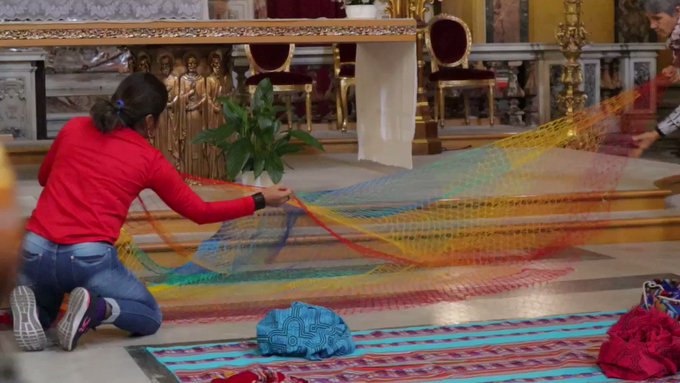 A report by the so-called Catholic News Agency states:
The Amazon spirituality meeting Oct. 9 included singing and testimonies gathered around various objects from Amazon communities, including a wooden canoe, displayed at the foot of the sanctuary of the church, and a controversial wooden figure of a pregnant woman, which has been described as both a Marian image and as a traditional indigenous religious symbol of the goddess Pachamama, or Mother Earth.

The meeting included a moment where a woman sitting in the canoe was lifted up by participants, and concluded with the praying of the Our Father and Hail Mary.

In addition to posters displaying images of missionaries who have worked, and in some cases died in the Amazon, a poster was displayed in the Church of a woman holding a baby while breastfeeding a small animal.

("Amazon spirituality events organized by network of Latin American and European groups", Catholic World Report, Oct. 10, 2019)
Yes, you read correctly! The poster displayed a woman breastfeeding an animal! The vile image, obviously containing nudity, was marketed under the theme of "Everything is connected" ("Todo está conectado"), a quote from Francis' eco-encyclical Laudato Si' (n. 117)!
An Oct. 11 Life Site report offers additional details, in case your stomach can still take more. And just as we were preparing this post for publication, Life Site's editor John-Henry Westen released a brand new video with yet more details about this obscenity:
Interestingly enough, Westen mentions that the Vatican press office has still not responded to their request for information about what that indigenous ceremony in the Vatican Gardens was all about, and specifically what that hideous carved image represents.
If you can't take it anymore at this point and simply need some comedic relief, a traditionalist member of the Vatican II religion who humorously calls himself Hank Igitur produced a hilarious clip on this madness:
But back to the actual synod.
The "Spirit" bloweth inside the Synod Hall
Francis himself had already prepared his sheeple at the opening "Mass" for the synod on Sunday:
Prudence is not indecision; it is not a defensive attitude. It is the virtue of the pastor who, in order to serve with wisdom, is able to discern, to be receptive to the newness of the Spirit. Rekindling our gift in the fire of the Spirit is the opposite of letting things take their course without doing anything. Fidelity to the newness of the Spirit is a grace that we must ask for in prayer. May the Spirit, who makes all things new, give us his own daring prudence; may he inspire our Synod to renew the paths of the Church in Amazonia, so that the fire of mission will continue to burn.

("Pope Francis Opens Synod of Bishops for Amazon with Mass in Vatican Basilica", Zenit, Oct. 6, 2019; italics given; underlining added.)
The next day, at the synod's first blather session, he expressed his displeasure at having heard someone complain of an indigenous man bringing up the gifts (i.e. bread and wine) during the prior day's liturgy in St. Peter's while wearing a feathered Indian headdress. "Tell me", the pseudo-pontiff asked his underlings gathered in the synod hall, "what difference is there between wearing feathers on his head and the three-cornered hat used by some officials in Vatican Departments [i.e. the biretta]?"
There we see the profound spiritual wisdom of Jorge Bergoglio on full display: It's all the same. All head coverings are the same; all traditions are the same; all times and places are the same; all religions are the same. Hey, everything's connected, right? So beware: The next time Francis creates bogus cardinals, he may just put Indian feathers on their heads instead of a red hat. At this point, he might as well.
"Cardinal" Claudio Hummes, relator general of the synod, gave the first address after Francis delivered his remarks, and he got right down to business, checking off all of the magic buzzwords in his opening paragraph:
From the very beginning of his papal ministry, Pope Francis has emphasized the Church's need to move forward. The Church cannot remain inactive within her own closed circle, focused on herself, surrounded by protective walls and even less can she look nostalgically to the past. The Church needs to throw open her doors, knock down the walls surrounding her and build bridges, going out into the world and setting out on the path of history….

("Introductory Report on Amazon Synod by General Relator, Cardinal Hummes (Full Text)", Zenit, Oct. 7, 2019)
Where have we heard this before? At Vatican II, of course! John XXIII threw open the windows to the world, and a few years later Paul VI feigned surprise that somehow the "smoke of Satan" had entered the church.
Hummes also immediately touched upon that thorn in the flesh that has been piercing the Modernists from time immemorial: priestly celibacy. We may surmise that the approach he took did not catch anyone by surprise:
It will be necessary to define new paths for the future. During the consultation stages, indigenous communities, faced with the urgent need experienced by most of the Catholic communities in Amazonia, requested that the path be opened for the ordination of married men resident in their communities, albeit confirming the great importance of the charisma of celibacy in the Church. At the same time, faced with a great number of women who nowadays lead communities in Amazonia, there is a request that this service be acknowledged and there be an attempt to consolidate it with a suitable ministry for them.
There's nothing like using an old Vatican II strategy: Get your foot in the door with a revolutionary premise (ordaining married men), then immediately slam the brakes by emphasizing the importance of tradition ("the great importance of the charisma of celibacy"). This way the groundwork for revolution is laid but tempered with a big "however" that is subsequently dispensed with. (Vatican II did this, among other things, with the use of Latin in the Roman liturgy, and we know how that ended.) Now of course we all know that if a married clergy is good enough for Amazonia, then it's good enough wherever else there is an "urgent need" for priests. After all, when the "Spirit" speaketh, who shall contradict it?!
As for that "suitable ministry" for Amazonian women, even if Club Francis eventually decides against women priests or deacons, there's no reason why the Bergoglian god of surprises might not reveal some other calling for them, especially considering the "rich tradition" surrounding Gaia, Pachamama, or Mother Earth — entities that are distinctly female.
Towards the end of his report, Hummes even managed to provide the initial premises from which later a kind of pantheism — the idea that everything is God — will be able to be drawn:
Integral ecology teaches us that everything is connected, human beings and nature. All living beings on the planet are children of the earth….

The Son of God too became a man and his human body comes from the earth. In this body, Jesus died for us on the Cross to overcome evil and death, he rose again among the dead and now sits to the right of God the Father in eternal and immortal glory. The Apostle Paul writes, "For in him all the fullness was pleased to dwell, and through him to reconcile all things for him (…) whether those on earth or those in heaven." (Col. 1,19-20). In Laudato si' we read that, "This leads us to direct our gaze to the end of time, when the Son will deliver all things to the Father, so that "God may be everything to everyone" (1 Cor.15:28). Thus, "the creatures of this world no longer appear to us under merely natural guise because the risen One is mysteriously holding them to himself and directing them towards fullness as their end" (LS, 100). It is thus that God has definitively connected Himself to His entire creation. This mystery is accomplished in the sacrament of the Eucharist.

(underlining added)
It won't take long before someone in the Vatican II Sect will conclude that by worshipping the earth, we are really worshipping God, since, you know, "everything is connected". And then it simply won't matter anymore whether we are adoring God the Father or Mother Earth, Jesus Christ or Pachamama, the Holy Ghost or the spirits of the forest, the Holy Eucharist or mere bread. Problem solved! Anything else would mean falling into a ridig black-and-white/either-or mentality that is obviously not open to the "newness of the Spirit"!
Nun says she hears Confessions
A curious incident occurred during the very first day's press conference. A Novus Ordo nun, Sr. Alba Teresa Cediel Castillo, was part of the Vatican panel, and when she was asked about the work women religious do in the Amazon, she happily shared her experience — including this detail:
Sometimes we also had to listen to confessions. Of course we cannot give absolution but at the bottom of our hearts we place ourselves in a position of listening with humbleness, thinking about the person who comes to us for a word of comfort, somebody who perhaps [is] before death, and so the presence of women in Amazonia is very great and very fertile….

(Source)
What made this more explosive still is that she preceded these remarks by referring to herself as a "woman priest" or "priestess" — and this also confused the translator somewhat because she garbled the sentence a bit, and Sr. Alba's rapid flow of words didn't help things.
What the Novus Ordo sister actually said, in Spanish, was this: "Qué hacemos? Por lo que puede ser también una mujer desde el bautismo, como mujeres sacerdotes, como reinas, y como prophetas." In English: "What do we do? Well, what a woman can also do on account of baptism, as priestesses, as queens, and as prophetesses." The curious mention of "priestesses, queens, and prophetesses" is a reference to the Novus Ordo teaching that all the baptized are incorporated into Christ's triple office of Priest, Prophet, and King (see Catechism of the Catholic Church, n. 1241; cf. n. 436). If all the baptized are priests, prophets, and kings in that sense, then it follows that baptized females are priestesses, prophetesses, and queens, right? Perhaps this is the opening that will be used to try to get women ordained in the Vatican II Sect. Considering the context of the synod, the remarks by "Bp." Adriano Ciocca Vasino, and the "hearing of confessions" the same sister also mentioned, it certainly cannot be ruled out.
But the story doesn't end there. The Vatican apparently thought Sr. Alba's words were explosive enough to step in: Although Vatican Media had already put up the full video and audio of the press conference with simultaneous translation on its English language YouTube channel, the video was suddenly removed, without explanation (it is still available, without the translation, on the international Vatican Media channel). Thankfully, we had saved an audio version of the entire press conference in English and thus still have the full clip — the relevant Q&A excerpt can be accessed here.
That same day, the Vatican's in-house journalist, Andrea Tornielli, put up an article on the English edition of Vatican News regarding the incident, entitled: "Amazonia: the women religious who 'hear confessions'". He gives the following rendition of what Sr. Alba said:
We are present everywhere and we do what a woman can do by virtue of her Baptism: we accompany the indigenous people, and when priests cannot be present, we perform baptisms. If someone wants to get married, we are present and we witnesses to the love of the couple. We have often had to listen to confessions, but we have not given absolution. In the depth of our hearts, though, we have said that with the humility with which this man or woman approached us because of illness, or because they were close to death – we believe God the Father intervenes there.
One thing is notably absent: Tornielli chose to omit Sr. Alba's words about being priestesses, queens, and prophetesses in virtue of baptism — without even so much as indicating the omission through an ellipsis, as is standard professional practice.
After this wild first day of the synod, we produced a 17-minute podcast with commentary on what had transpired. We have embedded it here:
But wait, there's more!
On Wednesday of the first week of the synod there was proposed an "Amazonian rite of Mass" — as though the liturgical freak shows of the annual diocesan Religious Education Congress in Los Angeles weren't exotic enough yet. What such an "Amazonian rite" might look like, we can only imagine after seeing the atrocities shown above. Trying to prepare the way to a married priesthood, Austrian "Bp." Erwin Krautler, a retired "missionary" in Brazil, claimed that the indigenous inhabitants of Amazonia just "do not understand celibacy" — no doubt a most difficult concept to explain in between teaching catechism lessons on the Holy Trinity, the Incarnation of God the Son, and Transubstantiation.
At the press briefing of Oct. 12, the sixth day of the synod, a journalist seriously asked why it would be important to evangelize the Amazon region when the indigenous there already have a religion. That such a question would be raised by anyone attending a Vatican press conference shows what the last six decades of "interreligious dialogue" and "mission" have accomplished. Roughly 100 years earlier, the great Pope St. Pius X, in a beautiful encyclical letter on the indigenous of South America, spoke of his desire "to deliver the Indians, where their need is greatest, from the slavery of Satan…" (Encyclical Lacrimabili Statu, n. 6). How's that for an answer!
By the way: Amazonians who disagree with Francis' leftist agenda, do not have much of a voice at the synod, unsurprisingly. "A Synod exists to listen constantly to the Holy Spirit", Vatican News proclaims, but, as Robert Royal so aptly put it: "The 'listening Church' that we have heard so much about in recent years seems very much to listen with the left ear, not the right." Touché!
At the same time, of course we must give credit where it's due: At least there were clear calls to conversion at the synod. Granted, the context was ecological conversion, but at least in that one regard conversion isn't optional and proselytism is still permitted — so much so that "the Church must speak with a prophetic voice in order for the issue of integral ecology to enter the agenda of international bodies", a decisive affirmation the likes of which one will search for in vain with regard to the Social Kingship of Christ, about which Pope Pius XI proclaimed less than a century earlier: "While nations insult the beloved name of our Redeemer by suppressing all mention of it in their conferences and parliaments, we must all the more loudly proclaim his kingly dignity and power, all the more universally affirm his rights" (Encyclical Quas Primas, n. 25).
Besides conversion, confession of sins too was a hot topic during the synod's first week — confession of ecological sins, that is, and to priests rather than female religious:
A desire was also expressed for an "ecological conversion" that would allow people see the gravity of sins against the environment as sins against God, against our neighbour, and against future generations. This would imply a need to produce and spread more widely a theological literature that would include "ecological sins" alongside traditional sins.

("Amazon Synod Day 2: The Church confesses 'ecological sins'", Vatican News, Oct. 8, 2019)
Perhaps the only way to prevent the mass production of pertinent "theological literature" would be to remind people that printed paper requires the use of trees, which are a precious ecological resource that surely we cannot afford to waste. "Everything is connected", we have learned, and who'd want to mess with that cycle?
The "Resistance" speaks — sort of
With all this madness going on in the Eternal City, Novus Ordo conservatives were disappointed to find that their "only friend in the Vatican", "Cardinal" Robert Sarah, had preemptively shot down any suggestion that he might be a voice of opposition to the Jesuit apostate from Buenos Aires. In an interview published in the Italian press on Oct. 7, Sarah declared:
The truth is that the Church is represented on earth by the vicar of Christ, that is by the pope. And whoever is against the pope is, ipso facto, outside the Church…. Those who place me in opposition to the Holy Father cannot present a single word of mine, a single phrase or a single attitude of mine to support their absurd – and I would say, diabolical – affirmations…. I would add that every pope is right for his time. Providence looks after us very well, you know.

("Cardinal" Robert Sarah, quoted in Cindy Wooden, "Cardinal Sarah: To oppose the pope is to be outside the Church", Crux, Oct. 9, 2019.)
As Scripture says: "Put not your trust in princes" (Ps 145:2). According to Catholic doctrine, the only one you can always count on to be your safe teacher on matters of Faith and morals is the Pope, a truth which clearly disqualifies Bergoglio from the start.
Naturally, the unemployed Vatican "Cardinal" Gerhard Ludwig Muller once again positioned himself as a conservative voice highly critical of the synod, pretending not to be a Modernist himself. At least he had a most apt and memorable line in his interview with Il Foglio: "…the mission of Peter and of his successors consists in uniting all believers in faith in Christ, who did not recommend involvement with the waters of the Jordan or the vegetation of Galilee."
Right now Rome is an infernal mess. Not that that would be news, but it's never been worse than now. When Francis' bosom buddy Eugenio Scalfari wrote in one of Italy's most widely-read newspapers that "Pope" Bergoglio had told him he doesn't believe that Jesus Christ is God, the Vatican press office was merely able to produce two carefully-worded non-denials. At this point, it's par for the course.
With all of these developments, what has been the reaction of the Novus Ordo conservatives and recognize-and-resist traditionalists?
In a video message blasting the synod, a confused John-Henry Westen declared within the same 60 seconds that "what is plainly obvious is that what is being set up is a false church…" and yet that "we won't leave the church — this is the one true Church, and there is no other." Got it.
Over at Crisis, which should consider renaming itself into Catastrophe at this point, writer Julia Meloni says that with the Amazon Synod, a Pandora's box has been opened. Another scathing summary of the "hot mess" that is the apostate synod in Rome was posted by Mark Lambert.
Meanwhile, The Remnant offered its usual Catholicism-free do-it-yourself traditionalism. Reporting straight from Rome, Michael Matt chronicled in several videos (see here and here and here and here, for example) the apostasy unfolding in the Eternal City. Still believing, however, that the people responsible for this wickedness are the legitimate Roman Catholic hierarchs, he effectively turned himself into an apostle for a defected Church, which is heresy. Verbally blaming it on some unspecified "human element" doesn't get him off the hook, however, since if the official teachings, laws, and sacramental rites of the Church are the human element, then there is nothing left to constitute the divine.
As Pope Leo XIII taught very clearly and beautifully:
In the Catholic Church Christianity is incarnate. It identifies itself with that perfect, spiritual, and, in its own order, sovereign society, which is the mystical body of Jesus Christ and which has for its visible head the Roman Pontiff, successor of the Prince of the Apostles. It is the continuation of the mission of the Saviour, the daughter and the heiress of His redemption. It has preached the Gospel, and has defended it at the price of its blood, and strong in the Divine assistance, and of that immortality which have been promised it, it makes no terms with error, but remains faithful to the commands which it has received to carry the doctrine of Jesus Christ to the uttermost limits of the world and to the end of time and to protect it in its inviolable integrity.

(Pope Leo XIII, Apostolic Letter Annum Ingressi)
On the eve of the synod, Remnant contributor and blatant public heretic Hilary White had claimed that the people she recognizes as the highest ecclesiastical authorities have no power to inflict canonical penalties on the laity: "No one here can be placed under any canonical sanctions", she remarked, contrasting the laity with the clergy who might be punished by their superiors.
But is that so? Even a cursory look at canon law refutes that notion: "The law gives … a list of the principal penalties common to clergy and laity, which ecclesiastical superiors can inflict upon any member of the Church according to his guilt", canon law professor Fr. H. A. Ayrinhac writes in his formidable work Penal Legislation in the New Code of Canon Law ([New York, NY: Benziger Brothers, 1920], n. 158; p. 154; underlining added).
This should not be surprising. After all, laymen are part of the Church as much as any other member, hence they are not immune from judgments and penalties for grave wrongs committed. The Pope and the bishops are the shepherds, and the faithful are the sheep ruled by them. In 1870 the First Vatican Council clearly defined the Pope's jurisdiction as being not only over the clergy but also the laity, both collectively and individually:
If anyone thus speaks, that the Roman Pontiff has only the office of inspection or direction, but not the full and supreme power of jurisdiction over the universal Church, not only in things which pertain to faith and morals, but also in those which pertain to the discipline and government of the Church spread over the whole world; or, that he possesses only the more important parts, but not the whole plenitude of this supreme power; or that this power of his is not ordinary and immediate, or over the churches altogether and individually, and over the pastors and the faithful altogether and individually: let him be anathema.

(First Vatican Council, Dogmatic Constitution Pastor Aeternus, Chapter 3; Denz. 1831; underlining added.)
That probably won't impress Miss White very much, however, considering that she is on record publicly doubting (=denying) Vatican I, which is heresy. To a Catholic, on the other hand, the issue is clear. It's really tragic but at times it seems that the only non-negotiable qualification one must have to be allowed to write for The Remnant is not being a sedevacantist.
Apocalypse Now
Ladies and gentlemen, it looks like the Vatican II Sect is nearing its well-deserved end. The Novus Ordo Modernists have discovered the "noble savage" in the Amazon and are preparing to synthesize his idolatrous indigenous nature religion with the Vatican II religion. Which, frankly, isn't all that difficult, considering what the apostate council declared:
…[O]ther religions found everywhere try to counter the restlessness of the human heart, each in its own manner, by proposing "ways," comprising teachings, rules of life, and sacred rites. The Catholic Church rejects nothing that is true and holy in these religions. She regards with sincere reverence those ways of conduct and of life, those precepts and teachings which, though differing in many aspects from the ones she holds and sets forth, nonetheless often reflect a ray of that Truth which enlightens all men.

(Vatican II, Declaration Nostra Aetate, n. 2)
Ah yes, everything is connected. There we go again.
What is happening now in Rome clearly has apocalyptic contours and is perhaps ushering in the worst but final stage of the apostasy. At the synod, though, they won't care. They "have eyes and see not", "noses and smell not" (Ps 113:13,14). They are too busy walking together, probably even moving forward.
And move forward they will — straight into the abyss.
Image source: shutterstock.com
License: paid
October 15th, 2019 by Vigilo
I can only imagine the distress and confusion that many are experiencing from events this month regarding Jorge Bergoglio (the man many call "Pope Francis"), his church, and the 'Amazon Synod.'
Within only a few days, "Francis" invited and attended pagan worship on Vatican grounds, he was said to have denied the divinity of Christ in an interview with his atheist friend, and ordinations of women & also of married men was suggested.
Here is a link for when the Vatican corrected the story about 'Francis' denying the divinity of Christ… this was their second attempt, as the first one was rather unconvincing. The rest of this post will be concerned about the apparent idolatry at the Vatican.
Idolatry at the Vatican

Here is video of the idolatry at the Vatican.
We know that to be a Catholic, one must believe that the Church is indefectible, and infallible in matter of faith and morals. We also know that we are to hear the Teaching Church under pain of eternal damnation. We know Catholics must acknowledge the Pope as Father, Pastor, and Universal Teacher, and be united with him in mind and heart.
Jesus Christ said in Matthew 16:18 "And I say to thee: That thou art Peter; and upon this rock I will build my church, and the gates of hell shall not prevail against it."
The Church interprets 'the gates of hell' to mean that we are fully assured, that neither idolatry, heresy, nor any pernicious error whatsoever shall at any time prevail over the church of Christ.
When viewing the events from just these few days, can it be said that Christ's promise remains unbroken, while it also being said that the man who permitted and attended the apparent idolatry at the Vatican, can be a successor of 'the rock' on which Christ built His foundation?
This kind of worship we see in the video is a sin against the first commandment of God, because it is the worship of God in a way in which he does not want to be worshiped, and it is gravely offensive to Him.
How can this all be explained?
This is explained by the reality that Jorge Bergoglio is not the pope of the Catholic Church.
It must also be noted, that this reality is not realized merely on this latest idolatry at the Vatican, for the idolatry is just a proof, and not the cause. It is, however, the natural result of the 'Second Vatican Council.'
The cause of the great apostasy from the faith was the work of many modernists, freemasons, and communists over the course of decades and centuries. They fooled many souls into believing their previously condemned errors were compatible with Christ's Church.
The error of Religious Indifferentism was condemned in the Syllabus of Errors. Ecumenism was condemned in Mortalium Animos. Modernism was condemned in Pascendi. Collegiality was condemned in Pastor Aeternus. False Religious Liberty was condemned in Libertas Humana…on and on. These errors were cleverly promulgated to weaken the Catholic Church, cause a great loss of faith, and foster the destruction of morals.
Recalling again that the Church is indefectible, and infallible in matter of faith and morals. We know that it can not contradict itself, and that the errors always have been and always will be errors, because our Catholic faith teaches us so.
To further your understanding on the differences between the Catholic Church and the Novus Ordo Vatican 2 sect… here is a helpful side-by-side on the matter.
Catholic Teaching vs Vatican 2 – Religious Liberty
Catholic Teaching vs Vatican 2 – Ecumenism
Catholic Teaching vs Vatican 2 – The New Ecclesiology
There is much more information to be learned… and much more that can be explained…. but the best advice for now is to pray the rosary and learn the Catholic faith (here is a Baltimore Catechism audio format). As you respond to the graces of the Holy Ghost, the reality of the current situation in the Church will be made clearer, and prayerfully more souls will flee the conciliar church and join the one, true, Catholic Church.
God Bless.
October 13th, 2019 by Vigilo
Tomorrow, Oct. 13, Antipope Francis will pretend to declare Cardinal John Henry Newman (1801-90) a saint. He cannot actually declare him a saint since such a privilege is reserved to the Pope, and if there's one thing that lousy Modernist Jorge Bergoglio is not, it's Pope of the Catholic Church.
In any case, the Novus Ordo Modernists have long hijacked Cardinal Newman for their own nefarious ends, spinning him into a forerunner of the Second Vatican Council, and consequently they have no objection to his canonization. Even long before the council, however, the original Modernists were already claiming to have a friend in Cardinal Newman, as we will see momentarily.
The impending worthless canonization of Newman by the Vatican II Sect is thus a golden opportunity to demonstrate that the celebrated convert from Anglicanism was certainly a Catholic. We need not undertake any lengthy in-depth study of his thought in order to be assured of this, for we can turn to the one man who, more than any others in the history of the Church, had the greatest authority, competence, and credibility to speak on the matter: We have in mind none other than Pope Pius X (reigned 1903-1914), the powerful progenitor of the Church's anti-Modernist campaign, himself declared a saint on May 29, 1954, by Pope Pius XII.
On Sep. 8, 1907, St. Pius X released his landmark encyclical Pascendi Dominici Gregis against the doctrines of the Modernists. The following year, the local ordinary of Limerick, Ireland, Bp. Edward Thomas O'Dwyer (1842-1917), published a little 44-page book entitled Cardinal Newman and the Encyclical Pascendi Dominici Gregis (a paperback copy may be purchased here). What occasioned the publication of the latter was the fact that some of the partisans of the Modernism the Pope had just condemned were appealing to the celebrated name of Cardinal Newman in their defense.
Bp. O'Dwyer wrote:
…I observe that some of the persons who feel the severity of the Pope's condemnation try to shield themselves under the venerable name of Newman. They would make believe that, in his writings, they can find, if not in express terms, at least in germ and embryo, the very doctrines for which they are now condemned, and they seem to hope that, in England, the name of Newman will be more authoritative on Catholic doctrine than the teaching of the Holy See. It is an uncatholic position, in principle, but it is as untrue to fact as it is unsound in faith. There is nothing in Newman to sustain, or extenuate, or suggest a particle of their wild and absurd theories. Newman was a Catholic to the tips of his fingers.

(Most Rev. Edward T. O'Dwyer, Cardinal Newman and the Encyclical Pascendi Dominici Gregis: An Essay [London: Longmans, Green, and Co., 1908], p. 5; paragraph breaks removed.)
The remainder of the work is the author's defense of the illustrious convert, showing that Modernists can lay no claim to the name of Newman.
On Mar. 10, 1908, Pope St. Pius X wrote a letter to Bp. O'Dwyer, commending him for his fine work defending the good cardinal and endorsing it wholeheartedly. The papal document was published in the Acta Sanctae Sedis, and we reproduce an English translation of it below for the benefit of our readers (taken from Michael Davies' book Lead Kindly Light):
LETTER
In which Pope Pius X approves the work of the Bishop of Limerick
on the writings of Cardinal Newman.
To his Venerable Brother
Edward Thomas Bishop of Limerick

Venerable Brother, greetings and Our Apostolic blessing. We hereby inform you that your essay, in which you show that the writings of Cardinal Newman, far from being in disagreement with Our Encyclical Letter Pascendi, are very much in harmony with it, has been emphatically approved by Us: for you could not have better served both the truth and the dignity of man.

It is clear that those people whose errors We have condemned in that Document had decided among themselves to produce something of their own invention with which to seek the commendation of a distinguished person. And so they everywhere assert with confidence that they have taken these things from the very source and summit of authority, and that therefore We cannot censure their teachings, but rather that We had even previously gone so far as to condemn what such a great author had taught.

Incredible though it may appear, although it is not always realised, there are to be found those who are so puffed up with pride that it is enough to overwhelm the mind, and who are convinced that they are Catholics and pass themselves off as such, while in matters concerning the inner discipline of religion they prefer the authority of their own private teaching to the pre-eminent authority of the Magisterium of the Apostolic See. Not only do you fully demonstrate their obstinacy but you also show clearly their deceitfulness.

For, if in the things he had written before his profession of the Catholic faith one can justly detect something which may have a kind of similarity with certain Modernist formulas, you are correct in saying that this is not relevant to his later works. Moreover, as far as that matter is concerned, his way of thinking has been expressed in very different ways, both in the spoken word and in his published writings, and the author himself, on his admission into the Catholic Church, forwarded all his writings to the authority of the same Church so that any corrections might be made, if judged appropriate.

Regarding the large number of books of great importance and influence which he wrote as a Catholic, it is hardly necessary to exonerate them from any connection with this present heresy. And indeed, in the domain of England, it is common knowledge that Henry Newman pleaded the cause of the Catholic faith in his prolific literary output so effectively that his work was both highly beneficial to its citizens and greatly appreciated by Our Predecessors: and so he is held worthy of office whom Leo XIII, undoubtedly a shrewd judge of men and affairs, appointed Cardinal; indeed he was very highly regarded by him at every stage of his career, and deservedly so.

Truly, there is something about such a large quantity of work and his long hours of labour lasting far into the night that seems foreign to the usual way of theologians: nothing can be found to bring any suspicion about his faith. You correctly state that it is entirely to be expected that where no new signs of heresy were apparent he has perhaps used an off-guard manner of speaking to some people in certain places, but that what the Modernists do is to falsely and deceitfully take those words out of the whole context of what he meant to say and twist them to suit their own meaning. We therefore congratulate you for having, through your knowledge of all his writings, brilliantly vindicated the memory of this eminently upright and wise man from injustice: and also for having, to the best of your ability, brought your influence to bear among your fellow-countrymen, but particularly among the English people, so that those who were accustomed to abusing his name and deceiving the ignorant should henceforth cease doing so.

Would that they should follow Newman the author faithfully by studying his books without, to be sure, being addicted to their own prejudices, and let them not with wicked cunning conjure anything up from them or declare that their own opinions are confirmed in them; but instead let them understand his pure and whole principles, his lessons and inspiration which they contain. They will learn many excellent things from such a great teacher: in the first place, to regard the Magisterium of the Church as sacred, to defend the doctrine handed down inviolately by the Fathers and, what is of highest importance to the safeguarding of Catholic truth, to follow and obey the Successor of St. Peter with the greatest faith.

To you, therefore, Venerable Brother, and to your clergy and people, We give Our heartfelt thanks for having taken the trouble to help Us in Our reduced circumstances by sending your communal gift of financial aid: and in order to gain for you all, but first and foremost for yourself, the gifts of God's goodness, and as a testimony of Our benevolence, We affectionately bestow Our Apostolic blessing.

Given in Rome at St. Peter's, on 10 March 1908, in the fifth year of Our Pontificate.
Pius PP. X

(Pope St. Pius X, Apostolic Letter Tuum Illud; original in Acta Sanctae Sedis XLI [1908], pp. 200-202; underlining and paragraph breaks added.)
This should definitively put to rest the suspicion that Newman was putting forward Modernist ideas. Obviously he had held many errors before his conversion, as an Anglican, but that cannot be laid to the charge of the Catholic Newman. Cardinal Henry Edward Manning (1808-92), likewise a convert from Anglicanism but so different from Newman, declared at the latter's passing: "We have lost our greatest witness for the Faith" (source).
Newman converted in 1845. He was ordained a Catholic priest on May 30, 1847. He never became a bishop, but Pope Leo XIII raised him to the rank of cardinal on May 12, 1879. (The rule that all cardinals had to be bishops was introduced by Antipope John XXIII in the early 1960s.) One of the reasons why Newman at times gives rise to confusion is that he employed his own peculiar vocabulary, he was not a systematic theologian, and he was not a Thomist or a scholastic. None of this should be too surprising, however, considering that the great Neo-Thomist revival of the 19th century did not begin until long after his conversion, with Pope Leo XIII's encyclical Aeterni Patris, in 1879. [Correction: We have been informed since that the Thomist revival was already underway before, but mostly confined to Dominican schools, and that Leo XIII merely gave this movement papal impetus.]
People who are interested in investigating Newman's theology in-depth and seeing its orthodoxy vindicated, are encouraged to consult, in addition to Bp. O'Dwyer's book linked above, Fr. Edmond D. Benard's work A Preface to Newman's Theology (St. Louis, MO: B. Herder Book Co., 1945). We had intended to make this work available as a free PDF download; however, we were not able to obtain the copyright as the publisher is going to re-release it into print in the near future.
A succint preview of what the reader can expect is found on the inside flap of the dust jacket of the original 1945 edition: "A PREFACE TO NEWMAN'S THEOLOGY is a close study of the great man's Catholic orthodoxy. Was Newman a Modernist or did he have Modernist leanings? If so, he would be an unsafe guide. This question is here discussed with scholarly acumen. Some writers have criticized Newman's teaching on the development of Christian doctrine. The arguments on this question also are carefully sifted and scrutinized…."
The author, Fr. Benard, was an incredibly gifted young priest who was just rising to prominence as a Newman scholar. He died a premature death in his study at the Catholic University of America, during a fire on Feb. 4, 1961, presumably of smoke inhalation. However, knowing all the evils that would afflict the Church and society afterwards, we can see what a great mercy of Almighty God it was to call him to judgment when He did. Fr. Benard died at the young age of 46, but he lived long enough to leave to posterity this magnificent vindication of Newman's orthodoxy.
Traditional Catholics, then, should not allow the Modernists to claim Newman as one of their own, for he most certainly wasn't. Not only learned authorities such as Bp. O'Dwyer and Fr. Benard but even Pope St. Pius X himself assure us of this.
Image source: Composite with elements from Wikimedia Commons (Sirilusmaxii [cropped] and Babouba) / amazon.com (cropped)
Licenses: CC BY-SA 4.0 and public domain / fair use
October 10th, 2019 by Vigilo
[UPDATE 10-OCT-2019 15:19 UTC: Vatican spokesman Paolo Ruffini:"The Holy Father never said what Scalfari wrote"]
[UPDATE 09-OCT-2019 22:52 UTC: Revised post to include complete English translation of Scalfari's article]
Forget the Amazon Synod for a minute, folks. Right now all hell is breaking loose over something that happened apart from the synod: Francis' favorite journalist, the apostate (former Catholic turned atheist) Eugenio Scalfari, published an article in today's edition of La Repubblica (pp. 1, 33) that is causing an earthquake around the globe.
According to the 95-year-old Scalfari, "Pope" Francis told him that Jesus Christ is not God. The veteran Vaticanist Marco Tosatti was the first to blog about this bombshell story found in the Italian paper. Rorate Caeli was the first to provide a reliable English translation of the key passages. Now (this being a revision of our original post) Vaticanist Edward Pentin has provided an English translation of Scalfari's entire article.
Here is what Scalfari wrote:
Francis and the Spirit of the Amazon
His Holiness Pope Francis has convened a synod in which more than two hundred cardinals and archbishops are taking part to deal with the problem of the Amazon.
The theme is of fundamental importance for the whole of humanity.
Francis has been launching the idea of the One God for years now.
It is obviously a revolutionary idea that involves the examination of a serious problem that affects everyone, rich and culturally evolved peoples as well as poor and desperate peoples.
The unification lies in the fact that there is an interior community: everyone must live and everyone should do so, one helping the other which in turn should adequately correspond. Rich and poor, men and women: this is our world of humans and this is what the Pope continually considers. "We have come to contemplate, to understand, to serve the people." In this way, Pope Francis opened the work of the Synod.
The Amazon is a very serious case but it represents the history of the human race, for six years now Francis has been pointing the finger at this dramatic theme
It begins from the first page: "We have not come here to invent programs of social development or be guardians of cultures. This is not our task or at least not the main one" were the words of Francis. "Our work will be first of all to pray and then to reflect, to dialogue, to listen with humility and to speak with courage. We do not need to demonstrate our possible power in the media. This would constitute a sensationalist Church, but this is not what we conceive, we know that humans are all a part of the world in their external diversity". Pope Francis never spoke of the "I" as the determining element of man.
Those who have had, as I have had many times, the good fortune to meet him and speak to him with the greatest cultural confidence, know that Pope Francis conceives Christ as Jesus of Nazareth, man, not God incarnate. Once incarnated, Jesus ceases to be a God and becomes a man until his death on the cross. The proof that confirms this reality and that creates a Church completely different from the others is proved by some episodes that deserve to be recalled. The first is what happens in the Garden of Gethsemane where Jesus goes after the Last Supper. The apostles who are just a few meters from him hear him pray to God in words that were once reported by Simon Peter: "Lord," said Jesus, "if you can take this bitter cup away from me, please do so, but if you can't or won't, I will drink it to the end." He was arrested by Pilate's guards as soon as he left that garden. Another episode, also well known, occurs when Jesus is already crucified and there again repeats and is heard by the apostles and women who are kneeling at the foot of the cross: "Lord, you have forsaken me".
When I happened to discuss these phrases, Pope Francis told me: "I am proof [NOW comment: this is ambiguous and should probably be translated as "They are proof", referring to "these phrases"] that Jesus of Nazareth, once he became man, even if he were a man of exceptional virtue, was not a God at all".
I remember these events that allowed me to meet Pope Francis several times, to discuss with him themes and problems that concern the history of humanity as a whole, but above all that closest to us from the Enlightenment to the end of our days. Pope Francis wanted to have an unscrupulous image of modern culture and he asked me to point it out to him and to examine it.
These talks were all and always reported literally in our newspaper and that is why today I feel the need to remember them, because Francis addresses the theme of 'Amazonia but broadens the scope and comes to the conclusion that men are substantially all equal and all different. This is the trait that differentiates us from the animal genus to which we belong, we are also endowed with instincts but we do not limit ourselves to these: we have feelings. They can be good or bad, selfish or altruistic; our body and our vital organs develop these moral diversities and create a precious yet completely incorporeal organ that is our Mind. This is the reason why I have once again recalled the interests of Francis in the corporeal and spiritual knowledge of man.
He loves culture and wants to know modern society as much as possible for the obvious reason that even the Church he leads must acquire modernity in its highest part, which best contributes to a humanity that makes our existence worth living.
(Translation: Edward Pentin; bold print given; scan of original available here.)
Denying the divinity of Christ is the heresy of Arianism. It is apostasy from the Catholic religion because if Christ were not divine, the entire religion would collapse.
Various English-speaking Novus Ordo and semi-trad news sites and blogs have begun covering this story:
The Vatican has already issued a reaction; but whoever thought that for such a whopper as this one, surely Club Bergoglio would issue a strong and categorical denial, was disappointed. The Vatican statement, released by official press spokesman Matteo Bruni, merely says:
As stated on other occasions, the words that Dr. Eugenio Scalfari attributes in quotation marks to the Holy Father during the conversations with him cannot be considered as a faithful account of what was actually said, but represent, more than anything, a personal and free interpretation of what he has heard, as seems quite evident from what is written today regarding the divinity of Jesus Christ.

(Source; Google translation with our adjustments.)
That's it! That's basically an elaborate way of saying, "Yeah, whatever."
Imagine if a woman says to her husband, "Honey, what's this I hear from your best friend Fred about you admitting to having a mistress? What happened to our marriage vow? Do you not love me anymore??" And he responds: "That cannot be considered a faithful account of what I told him since Fred only quotes from memory. Besides, you can assume it's colored by his own interpretation, and that should be obvious." What woman would not be furious at such an evasive answer that's playing her for a fool?!
Ah yes, the case of Eugenio Scalfari (pictured left). He is old; he is an atheist; he doesn't take notes and writes all his interview texts based on memory (as he himself has admitted). And yet Francis keeps giving him interviews, and the paper in which they are published, La Repubblica, is the only newspaper Francis says he reads. Any reasonable person understands that that means Francis considers what Scalfari publishes in La Repubblica to be an accurate transcription of what he actually said, a faithful presentation of his thoughts — at least accurate enough to get the point across. Besides, as Rorate Caeli notes, "the papal interviews to Scalfari have been published on the Vatican website, [and] they have been occasionally published by the Vatican publishing house (LEV) itself".
But we need not even rely on all that. We can simply review how Scalfari's claims have measured up in the past. Keep in mind that not once has Francis ever disputed the accuracy of any of Scalfari's reporting or claimed to have been misunderstood or misrepresented:
The bottom line is this: When you put all the evidence together, you have to conclude that until there is a clear and firm denial, everything Scalfari has reported about Francis is true — even if the "Pope" didn't say everything verbatim as reported, certainly Scalfari's paraphrases convey accurately enough the ideas Francis communicated to him.
Part of the front page of the Oct. 9 edition of La Repubblica, in which Scalfari's article appears
In case anyone is still trying to excuse all this, let's be clear that if Francis did not say what Scalfari reports him to have said, the impostor from Buenos Aires has a strict duty to issue a firm, clear, and categorical denial. It is not everyone else's job to excuse Francis; it is Francis' job to contradict what has falsely been said about him, especially in so weighty and serious a matter — but only if it is actually false, of course.
With Francis' history of continually giving interviews to the nonagenarian journalist in the privacy of his room at the Casa Santa Marta, it doesn't take a rocket scientist to figure out the strategy here: Francis uses Scalfari to conveniently release all sorts of theological, spiritual, and moral poison into people's minds. He knows the press will report it everywhere, the Vatican will issue a caveat that can — but doesn't have to be — read as a denial, and countless souls will be impacted. His useful idiots, also incorrectly known as "Catholic apologists", will bend over backwards to tell those few who bother to look at this in depth that Scalfari is just an elderly, frail, and unreliable atheist, whereas the bulk of people will simply imbibe what Scalfari reports as "coming from the Pope" — and that's precisely what's intended. This is a very clever way for him to get his message out while leaving enough room for plausible deniability, should the need ever arise. This way he can say what he wants to say without having really said it. It is devilishly clever!
One might ask oneself what cause Francis would have to deny the divinity of Jesus Christ. Would it really make sense for him to say Jesus isn't God? When one looks at Francis' pseudo-pontificate of the last six-and-a-half years, the frightening reality is that it would actually fit right in with his "gospel of man."
It is easy to see that the Triune God is superfluous for Francis, whose "theology" is basically a spiritualized version of left-wing politics, mixed with existentalism, psychoanalysis, phenomenology, and humanitarianism. For his soup-kitchen theology and greeting-card spirituality, he doesn't need our Blessed Lord Jesus Christ to be divine. As long as He was a model human, that's good enough for him, because all Bergoglio uses our Lord for is to give people a reason to be nice to other people. Christ is used only insofar as He can be hijacked to advance the gospel of man.
Recall that in February of this year, Bergoglio signed the apostate "Declaration on Human Fraternity" in Abu Dhabi, United Arab Emirates. In the Vatican's interreligious dialogue with Muslims and Jews, Jesus Christ is a real stumbling block, at least if He is accepted as divine. Jews believe in God being one person; Muslims believe in God being one person as well. But Catholics believe in the Holy Trinity: One God in Three Divine Persons. That isn't helpful to interreligious dialogue! It is only reasonable, therefore, that the same Vatican II religion that claims Catholics, Jews, and Muslims "adore the one [i.e. same] God" (see Vatican II, Decree Nostra Aetate, n. 3), now has to move to deny, or at least downplay at first, the divinity of Jesus Christ. (They will take care of the Holy Ghost later, and probably with much more ease, since they can easily reduce Him to a mere "force" or "power" of the one God.)
In fact, as quoted above, Scalfari begins his article in today's edition of La Repubblica by talking about Francis' efforts to preach "the idea of the One God" — not "One God" in the Catholic sense of the Holy Trinity being One, but in the sense of there being "one and the same god" that is supposedly adored and shared by all religions, or by most. With hindsight we can now see that Francis has gradually been working towards this idea in the last six years, as is particularly evident in his interreligious claims and practices, for example, in his apostate Pope Video of January 2016. All this also explains why Francis has so much contempt for our Blessed Lord Jesus Christ, for His holy Mother, and for the Most Holy Trinity.
We'll finish this post with an exhortation from St. John the Apostle: "Who is a liar, but he who denieth that Jesus is the Christ? This is Antichrist, who denieth the Father, and the Son. Whosoever denieth the Son, the same hath not the Father" (1 Jn 2:22-23).
Don't say you weren't warned.
Image sources: shutterstock.com / Wikimedia Commons (Presidenza della Repubblica; cropped) / La Repubblica
Licenses: paid / use permitted with attribution / fair use
October 10th, 2019 by Vigilo
from QuidlibetFather: Even though I've figured out that sedevacantism is the only possible theological explanation for Bergoglio and the whole Vatican II mess, I still have a lot of friends and acquaintances in SSPX circles. Word of my change of position has gotten around, so the topic now comes up in conversations. Lay SSPX-ers agree with my arguments … up to a point. Their priests respond like they are brain dead, and either have no answer at all or tell me to read the Salza-Siscoe book.
Recently, though, a layman who is a respected major player in the SSPX empire invited me over to talk with him about sedevacantism. He's an intelligent guy, and probably hopes to "convert" me back to R&R from the "errors" of sedevacantism. Any ideas about how to handle him?
LOOK ON IT as an opportunity to get him thinking about some of the unquestioned "givens" the Society has handed him about "evil, schismatic, proud" sedevacantism.
Like the SSPX priest, your friend also probably told you to read the Salza-Siscoe book, which is like Ambien in print. Zzzz. Instead of sending him links to Dead on Arrival and A Dignified Burial, my two videos refuting the book's arguments, I'd recommend you point him to a big wave coming from another direction.
A SEDE behind that smile?
I. Abp. Lefebvre in Favor of Sedevacantism?
For any SSPX kahuna, clerical or lay, the gold standard for explaining the state of the Church after Vatican II is supposedly "the position of Archbishop Lefebvre," as if this were some great body of fixed and consistent teaching — which, of course, it was not. (See a 1984 article here.)
But since the notion of Lefebvre's supposed authority casts such a long shadow in SSPX-land, you should meet your friend's suggestion that you read the Salza-Siscoe book with another suggestion to him: that he take a close look at the material found at these two links:
Chances are, the lay kahuna will run this rather surprising information by an SSPX priest, perhaps even the District Kahuna himself. These priests — unlike me — did not know Abp. Lefebvre personally or hear him say these things, and they will not have a convincing way to explain them away for your friend.
So, an intelligent and reasonable man, having been told for ages that "the archbishop's thinking" on Vatican II mess was nearly divine revelation, may indeed rightly begin to question the SSPX party line that sedevacantism is "schismatic."
How could it be, if the the Iron Bishop himself so repeatedly spoke in favor of it?
The only conclusion if you say "true popes."
II. The Real Problem: A Defecting Church
But serving up Abp. Lefebvre's pro-sede statements is just a little hors d'oeuvre.
The essential argument against R&R and for sedevacantism is based upon ironclad principles of Catholic (i.e. pre-Vatican II) dogmatic theology concerning the indefectibility and infallibility of the Church — n.b. not just the infallibility of Roman Pontiff alone in rare ex cathedra pronouncements. I have provided a summary and application of the teaching in Resisting the Pope, Sedevacantism and Frankenchurch, and again in Section I of Sedevacantism: A Quick Primer.The logical corner to force intelligent SSPX-ers like your lay friend into is the defecting Church.
(1) If Vatican II is error and the new laws are evil — as SSPX and R&R firmly insist —and at the same time, and the men who promulgated them somehow still had authority from Christ, the Church herself has defected, and Christ's promises have failed — especially, "I am with you always."
(2) But faith tells us this is impossible.
(3) The only alternate solution consonant with the Church's infallibility and indefectibility is that the men who promulgated these errors and evils never received authority from Christ in the first place; they defected — not the Church herself — and became incapable of being validly elected popes or of receiving authority from Jesus Christ.
(4) The judgement that the changes were errors and evils is thus implicitly a judgment that those who promulgated them had no authority.
In other words, the errors and evils of the officially-approved changes is the smoking gun which leads to an unassailable and ironclad verdict: No authority, fake popes.
III. Wait for the Lame Excuses…
Your friend will probably have heard the standard objections that SSPX has employed to get around this argument, and may repeat them to you:
Where would we get a true pope, then?
Vatican II is not universal ordinary magisterium because it is not in accord with previous "tradition," so we're not bound by it.
The pope is like a bad dad whom we can disobey.
All these have been answered over the years, and answered in spades:
(1) Not having absolute certitude how to get a pope does not make a heretic a true pope by default OR solve your defecting Church problem.
(2) ALL the bishops came home from the Vatican II and, in union with the Vatican II popes, taught the Council's doctrines, which John Paul II then duly enshrined and imposed as obligatory in his universal catechism; so, if you believe the V2 popes are true popes, Vatican II is universal ordinary magisterium.
(3) The SSPX argument that universal ordinary magisterium, to be such and to be binding, must first be "in accord with tradition"
a. Erroneously turns a consequence into a condition. In fact, a teaching is "in accord with tradition" and infallible because a true pope and his bishops universally teach it — that's how Christ's promise works — not because you, Mr. Layman or Father SSPX, have checked out the hierarchy's pronouncement and decided that it is consistent with "tradition."
b. Was an argument of the anti-infallibilist "Old Catholic" party that was rejected by Vatican I.
(4) A bad dad's authority is paternal, domestic, private and expressed in particular commands, whereas a pope's authority is jurisdictional, universal, public and exercised through universal disciplinary laws, which are infallible. Sorry, there are no common points, making this old analogy particularly bone-headed and silly.
There are other equally worthless evasions that have likewise been answered again and again. (See section 3 of Sedevacantism: A Quick Primer.)
• • • • •
YOUR LAY FRIEND should have no difficulty understanding the argument: once you say that the officially-approved changes in doctrine and discipline are errors and are evil, you are logically stuck with one of two explanations: the Church has defected, or the individual or individuals who imposed them have defected.
Sedevacantists like Bp. Daniel Dolan, Bp. Donald Sanborn and myself have been making this same argument for decades, and no one — not Michael Davies, not The Remnant, not SSPX, not its SS shock troops, not anyone on the R&R side — has been able to come up with a convincing refutation for it based on the principles of pre-Vatican II dogmatic theology.
If the doctrinal, disciplinary and liturgical changes are error-ridden, evil and sacrilegious, the papacy of the Vatican II popes is toast. It is a straight-line argument to that inexorable conclusion.
Your lay friend may indeed be comfortably basking in the SSPX empire's sunny climate at the moment. But forcing him to think logically about the Church's infallibility and indefectibility may well lead him to say a final aloha to the R&R myths, and bid a new one to sedevacantism as his own wave of the future…
October 7th, 2019 by Vigilo
On this the Feast of the Most Holy Rosary of the Blessed Virgin Mary, we should also recall another devotion for the month of October, that to blessed St. Joseph.
Pope Leo XIII ordered this prayer to St. Joseph to be said as a devotion after the rosary throughout October. It is a really good prayer, so remember to include it in your devotions.
Prayer to Saint Joseph for the October Devotions
Ordered by Pope Leo XIII to be set as part of the devotions for the Month of October
To thee, O blessed Joseph, do we fly in our tribulation, and having implored the help of thy most holy spouse, we confidently crave thy patronage also. Through that charity which bound thee to the immaculate, Virgin Mother of God, and through the paternal love with which thou didst embrace the Child Jesus, we humbly beseech thee graciously to regard the inheritance which Jesus Christ hath purchased by His blood, and with thy power and strength to aid us in our necessities.
O most watchful Guardian of the Divine Family, defend the chosen children of Jesus Christ; O most loving Father, ward off from us every contagion of error and corrupting influence; O our most mighty Protector, be propitious to us and from heaven assist us in this our struggle with the power of darkness: and, as once thou didst rescue the Child Jesus from deadly peril, so now protect God's holy Church from the snares of the enemy and from all adversity: shield, too, each one of us by thy constant protection, so that, supported by thine example and thine aid, we may be able to live piously, to die holily, and to obtain eternal happiness in heaven. Amen.

Indulgences: I. Seven years and seven quarantines, if said after the Rosary in October. II. 300 days, once a day, at other times (and in this case the words in italics are omitted) – Leo XIII Enc., August 15th 1889; Indul., September 21, 1889.